Vibe:
Drinks:
Service:
Overall:
A delightful, modern garden bar sitting pretty in Northbridge – The Standard is anything but standard. A very relaxed vibe at all times, with some background tunes to set the mood, it's the perfect place to sit down and have a chat and a few drinks. During the day you can take advantage of the open-air garden and rooftop that overlooks Northbridge and the city (be sure to check out the impressive graffiti art). Then during the evening, the festoon lights will make you feel like you're in a magical garden. Not to forget the inside seating, smack bang in front of the bar – We're all for convenience out here!
The cocktails at The Standard are seriously something else! Their mixologists have created an extensive signature cocktail list… and boy oh boy will you get some bang for your buck, if you know what I mean (get an uber honey)! With each cocktail incomplete without a gorgeous garnish, they're not only an absolute vision, but delightfully delicious. We loved the 'Pasito Mojito' (because who doesn't love passiona but for adults?) and 'Lady in White' (she's very elegant but a little bit saucy). And to really drive it home, they're thinkers at The Standard and have put in a fair bit of preparation before each evening, so you won't be waiting long for them to make your cocktail!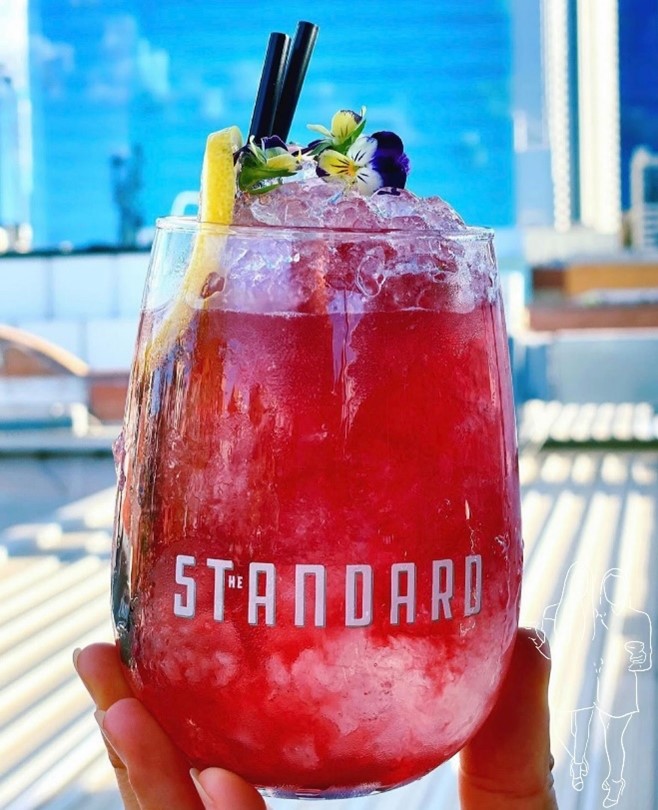 What a gorgeous venue and one that we will 100% be visiting again. They have a magical aesthetic, the drinks are delicious and the SERVICE IS ON POINT! Such a lovely and helpful team that go above and beyond for their customers – a highly commendable effort. Not only friendly, but efficient and such happy faces to see behind the bar. If you're looking for some music and something more upbeat, this probably isn't the place for you. There is background music but it is more of a sit down and have a chat kind of vibe. It can also get quite busy and quite difficult to get a seat, so we suggest booking if you're prepared! But if that's the only qualm we've got, they're doing pretty darn well.
All-in-all, a very above standard experience at The Standard!
#wevegotyoucovered
Two Girls and a Bar
@twogirlsandabar_perth
@thestandardperth
Opening Hours
Wed – Fri 4pm – 12am
Sat 12pm – 12am
Sun 12pm – 10pm
28 Roe St Northbridge 6003
Phone: 9228 1331
Email: info@thestandardperth.com.au