Shout Feliz cumpleaños – Perth Institution La Cholita Is Turning The Big 1-0! 
Traditionally, Mexican birthdays are celebrated with lots of booze, food and good company, and the crew at La Cholita are committing to the tradition with a full blown FREE laneway party across Friday 3 and Saturday 4 December.
For the first time in the venue's epic, taco-fueled history, they're throwing a big ol laneway party – and everyone's invited! From 5:00 PM til 1:00AM Friday and Saturday night, make your way to La Cholita, order up a spicy Marg at the bar, stroll through the dimly lit venue down past the bathrooms into the vibrant laneway where you'll be transported to the streets of Mexico; party lights, bright colours, loud sounds and zesty flavours.
The legendary taqueria will be slinging all the crowd pleasers; Pico de Gallo & corn tortillas, mole chicken tacos and their infamous guacamole and crispy flour tortillas – delicioso! To tickle your tequila taste buds, the team will be shaking up their classic margaritas, Sangria Roja and ice cold Watermelon Rosé Frozé. There's also Dingo Lager for those in need of a refreshing ale. DJ legends Charlie Bucket and Ben Sebastian will be on the decks and we hear a Mariachi band will be appearing across the epic weekend.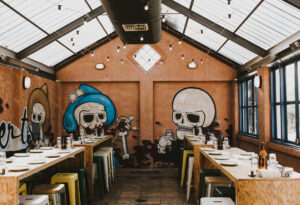 It's not often a Perth venue marks the grandness of a 10th birthday, but La Cholita has gone and done it. Slinging up the best fish tacos this side of town, the joint is the perfect all round spot for date nights, mate nights and those quiet nights that somehow turn huge. Could it be their extensive list of tequila, with over 150 to choose from? Their thirst-quenching margaritas that somehow always seem to hit the spot? That carefully curated, delectable menu that gets mouths watering? Look, lets just say, it's quite possibly a deadly combination of all the above that has the masses racing back week after week. Either way, believe us when we say – this is THE birthday celebration to top all birthday celebrations, and you don't want to miss out!
VENUE DETAILS
La Cholita
279 William St, Northbridge WA 6003